Date/Time
Date(s) - 04/24/2017
8:00 pm - 10:00 pm ET


Call in number: 631-353-4342 and enter 70010 as show #

Listen by clicking the button below!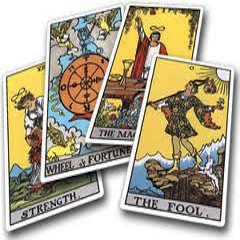 This module offers you an understanding of card relationships, during a layout you can deepen your interpretation by looking at how cards work together or how they conflict each other, thus adding detail that isn't obvious in a single card. Card relationships also show why single card readings present the challenge of context. Without context a single card is a bit like watching a silent movie without music starting part way through, it can also be likened to transcribed orations, which read very differently without auditory emphasis, pauses and cadence. A layout offers a chapter, taking your cards from being sentences and phrases to an outline of a story.
Certification is in the form of a Taroist Graduate Certificate sent via mail to ensure authenticity when used and are kept on file for verification at any point in the future, this also means you can hang your certificate with pride in an office, at home or at fairs giving you an edge over other readers in a competitive environment. Dorothy has established a respected name as both a Clairvoyant, Taroist and Teacher of the esoteric arts.
All classes are recorded so can be viewed live or at your leisure via the recording, Dorothy's classes are visually exciting and presented in a way that makes them an easy tool to use for reference in the future.
Understanding Tarot 4: Layouts
The importance of a layout can't be underestimated, they provide parameters of time and space. The celtic cross, for example, continues to be the single most popular spread used by professionals as it provides the past, the present, influences, feelings and the future, no small feat this offers one of the most comprehensive readings possible. By contrast deeper levels of reading with other sets include Lenormands full card layout, she never used less than a full deck and a few hours to undertake a reading. It has become popular to ask a single question and get a quick answer, but nothing compares to a full reading with the appropriate care and attention to card relationships, even a fairly nominal question can achieve a full and detailed answer when it is understood how a cards energy impacts on another position and card.
Understanding Tarot 5: Impactful Relationships
A card can have it's direction and impact changed by the cards that surround it, even a 3 card spread is not really a true indication of what is to come, if you cannot see the relationship between each card. They need to make sense so when filling in the gaps of time between them, it is clear how one point leads to the next. When you understand the relationships between individual cards you find yourself in a position where less cards give you precise information regarding a question.
Understanding Tarot 6: Expanding a reading
There are times where the outcome card or future event card require exploration, these cards already in a spread can be used as a basis for gaining more detail on a situation so adjustments can be made in the advise given or the behaviours undertaken, this allows you to (if professional) elevate your level of advice in specific areas, or if reading for yourself and friends consider the actions and behaviours that you might want to change to create a different outcome. It is to be noted the future is changeable if you are able to use the information at hand, most challenging outcomes come from not having enough information or not making changes where they need to be made.
Category(ies)
Recent Listeners
mia
candie
kathleen